After Life
From Funeral Home & Cemetery News
Upon the death of her mother in 2011, Elena began to delve into making private markers, memorials, and reliquaries to honor the deceased.
"The death of my mother in 2011 and her wish to be interred in the historic Hickory Grove Cemetery in Waverly, PA motivated me to design my first public memorial for a deceased person," reflects Elena. "The marker was designed not only to reflect my personal story with my mother, but to anchor an intimate place to commune with her within the grounds of a public and relatively traditional cemetery. I was honored to take on the task and am very proud to present the result."
Elena's mother was a lifelong ornithologist, gardener, and nest collector. The nest was to be the metaphor. She chose cremation, so her marker not only had to denote where she was, but also had to contain some of her ashes.
Elena has since created custom markers for others that salute their life and loves, which has led to an extraordinary and rewarding experience for both sculptor and bereaved. It is Elena's goal to honor the dead through sculpture in an ancient way of paying respect and continuing the conversation into the next realm.
The Reliquary Process
The first consideration was size, which was determined by the budget set at $10,000 in material costs. Rocks sourced from the family's property serve as the base of the marker. The material of the curved facade is 3/8" silicon bronze plate. The letters are cast silicon bronze in Trajan. Two nests were chosen from her collection in case one didn't cast well. Branches were pruned from her 60 year old rosemary bush and individually invested and cast in bronze via the direct burn-out method.
Once cast, each individual branch was welded to the cast bronze base nest to create the final composite. The life sized egg was built in a CAD 3D modeling program, made hollow, and divided into two halves that fit together. It was 3D printed in wax and cast in silicon bronze using the lost wax method. Inside the sealed egg are her mother's ashes, personal charms, and a private note. The nest reliquary was then placed in the hollow of the curved bronze wall with her name, birth and death dates. All elements were welded together and the marker was prepared with threaded rod to be epoxied into the drilled stone base. Binding the marker to the rock was done on-site.
"I was aided in the fabrication of this piece by Nic Spitler, head of design for FireFeatures, metalsmith Tim Kohchi of Tim Kohchi Metalsmithing, Elliot Gantz of Elliot Gantz Fine Art Foundry, and John Pesavento of Pesavento Monuments. Their contribution cannot be overstated," said Elena.
DRAWING SET, PLOT LAYOUT & NEST CASTING
EGG RELIQUARY PROTOTYPES, CNC CASTING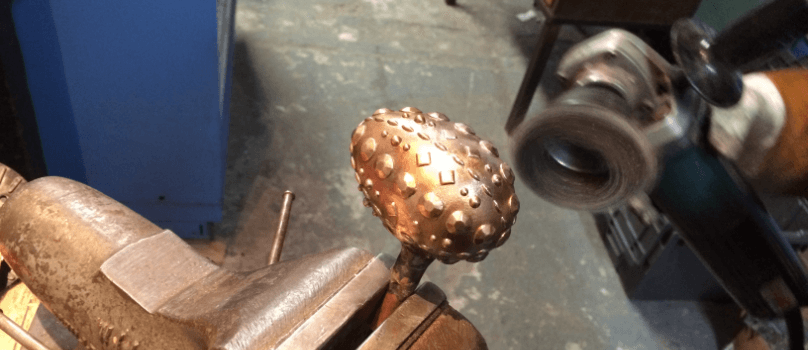 HICKORY GROVE CEMETERY INSTALLATION
HICKORY GROVE CEMETERY INSTALLATION
HICKORY GROVE CEMETERY MEMORIAL SERVICE JUNE 7, 2014